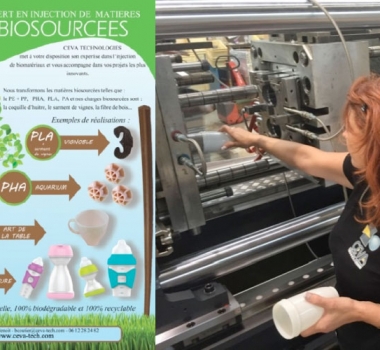 July 2016
BIOMATERIALS to make your products stand out!
Plastic injection-moulding specialist CEVA TECHNOLOGIES and SkiBat, who joined forces to produce an exclusive ski-holder solution, now supply various products tailored to different sectors of activity. The aim was to replace traditional plastics with bio-sourced materials.
These solutions are already in use in several areas of CEVA TECHNOLOGIES' activities, such as aquariums, vineyards, tableware and childcare. The company is set to uncover new markets to respond to the needs of the future.
Working with their respective compound and formulation partners, these companies have found customised solutions for obtaining innovative materials. "When it came to manufacturing feeding bottles, we had to find a solution that was temperature-resistant and could be used in the microwave," comments Benoît COUTIER, Commercial Manager at CEVA TECHNOLOGIES. "These materials do not behave like traditional polymers, so we then had to learn new manufacturing techniques. These new manufacturing materials (PLA and PHA) are living materials with a variable moisture content. So, we had to adapt our manufacturing processes." These materials are obtained from corn starch, i.e. they are bio-sourced and bio-degradable.
These feeding bottles are made on special production lines to prevent the material being contaminated by other materials and to ensure the complete integrity and quality of the products.
Now we've overcome the technical problems, we need to win over the consumers! The difference in price between traditional manufacturing materials and naturally-sourced materials is still a hurdle to be overcome.
"Made in France" for green appeal
With our production site in France for transforming these biomaterials, there is a coherent logistics chain for supplying the various distributors.
These products are exported and some of these "Made in France" feeding bottles have already found their way to Asia and are set to conquer the European markets!